Success Stories
First-year Bald Eagle recovers from car collision injuries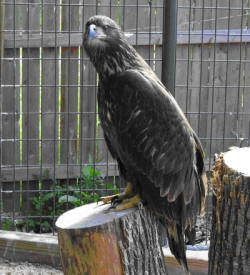 In mid-June 2007, a very large first-year female Bald eagle slammed into a car in Prince George's County while hunting for food. Because birds have very delicate bones (their light weight allows them to fly), they are particularly susceptible to bone fractures. The eagle came to Wildlife Rescue for treatment. She was found to have a small fracture in her collarbone and a head injury. Gerda, Wildlife Rescue's President and Executive Director, once again worked her magic. Over the next few weeks, consuming 2 pounds of fresh croaker and a rat a day (birds of prey require all parts of their prey to have a nutritionally complete diet); the head injury resolved itself and the fracture healed. Ms. Eagle was re-evaluated by one of our veterinarians and was given the OK for release. Volunteer Liz Smith contacted Greg Kearnes and transported Ms. Eagle to Patuxent National Wildlife Research Refuge. The release went well; she flew straight and true with good lift upon release. The park is over 7,000 acres on the river and will make a spectacular home for her.
Independence Day too soon for two baby Osprey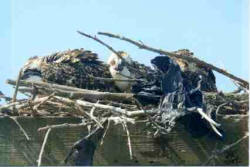 Animal emergencies don't take a holiday. July 4, 2007 brought "Independence Day" early for two 5-week old baby osprey who found themselves floating down Middle River in their nest, sans parent. Fortunately, a compassionate boater was able to fish them from the water unharmed. The boater notified the MD Department of Natural Resources, which referred the boater to Wildlife Rescue. Volunteer Gail Rice retrieved them and brought them to our facility, where our President, Executive Director, and Wildlife Rehabilitator Gerda Deterer examined them. A thorough examination found them slightly underweight but free of abrasions and broken bones, and with good leg movement-overall in good shape, but in need of foster parents. Volunteer Liz Smith turned to Greg Kearns, "The Osprey Man", a naturalist and researcher at Patuxent River Park in Southern Prince George's County. Mr. Kearns has been working with osprey for over 20 years, and has successfully placed orphaned/abandoned baby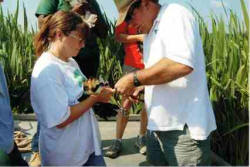 osprey in foster nests. Liz brought them to Greg, and the lucky babies were placed in separate nests on the Patuxent River. Momma Osprey for both nests later brought food to their adopted babies soon after the babies were dropped off at the nest and monitored from afar. Before release, the ospreys were banded to enable Greg to monitor their progress. A week after location, both osprey had grown and were very healthy.