Wildlife Rescue, Inc. (formally Wild Bird Rescue, Inc.) was founded in 1994. We assist Maryland residents with wildlife emergencies, rescue and rehabilitate wildlife with the goal of release back to nature. We are dedicated to helping people find humane solutions for co-existing with wildlife. We believe there is always a humane answer to any wildlife issue.
Wildlife Rescue, Inc. has received the award known as the "Best in America" Seal. This award is extended to only 5% of the charities that participate in the Combined Federal Campaigns. We take pride in receiving this award, which is not only a reflection of the quality of care we provide but also recognition of the efficiency of our administrative and fundraising activities. This efficiency is demonstrated by the fact that more than 86 cents of every dollar donated is used directly for the animals under our care.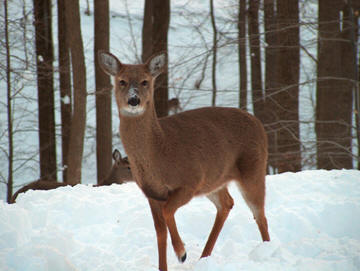 Wildlife Rescue, Inc., after many years of investigation into non-lethal methods for co-existing humanely with whitetail deer, is funding a research program for proving the efficacy of sterilization spaying of deer – instead of killing them – that also contributes to reducing the overall deer population, especially useful for suburban areas. The procedure is actually less intrusive than when a cat or dog is spayed since only the doe's ovaries are removed.
We know killing deer is never going to solve anything, because it is like mowing your lawn. Your lawn may look shorter, but before you know it, it grows back and has to be mowed again. This is because you are not stopping the lawn from growing, the same way killing some deer is not stopping the remaining deer from reproducing the way deer sterilization spaying is 100% effective at stopping reproduction.
Other major benefits of non-lethal deer sterilization birth control are less browsing because the deer do not have the caloric requirements of almost 7 months of pregnancy and 3 months of nursing fawns. Just like a pregnant woman eats more for her baby, so does a deer. And even though they still reside in the community, they serve as infertile placeholders who help keep out new deer while consuming much less. In addition, the sterilized female deer do not go into heat, so they are not chased by bucks during rut, reducing deer vehicle collisions!
In just the past year non-lethal deer sterilization birth control projects were done in California, New York, Maryland and Virginia. Wildlife Rescue, Inc. worked closely with Humane Deer Management, the Virginia group who raised the majority of the money through individual donations, to implement their first non-lethal deer project in the history of Virginia. And as more and more communities throughout the United States continue to follow the success of our project, we are looking very forward to not only our next phase, but the expansion of more non-lethal deer projects in Maryland and other states to continue to prove humane solutions for living with deer can work, if you use them!
The Researchers:
In 2011 we brought in top experts from across the United States to guarantee that this research project was conducted under the highest standard for success. Dr. Steven Timm and Dr. Anthony DeNicola, PhD of White Buffalo Inc. who had recently established a protocol for rapid ovariectomy using a direct surgical approach. Their work involves the combined experience of Dr. DeNicolas' team of researchers and the surgical and field experience of Dr. Timm, and established a technique to provide surgical (definitive) sterilization in a field environment. Under the guidance of Dr. Timm, local veterinarians were also taught this rapid ovariectomy procedure.
The Results:
February of 2011 – 1st Phase: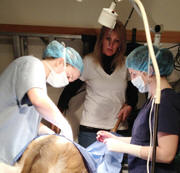 In February, 2011 our original goal was to sterilize 25 does in the first year, but within days, we exceeded our own expectations. We sterilized 33 does in the first stage of this study. This alone will prevent the birthing of over 300 fawns during the does' eight-year reproductive life, and thus exponentially continuing the reduction of the overall population. In the end, the cost per prevented birth demonstrates the cost effectiveness of this humane solution for deer population control!
Twenty-five percent of the does were first corralled in a capture rotunda developed by the USDA to capture and handle deer in a minimally stressing, extremely humane way, which was safe for both the deer and workers. The USDA drove it up on a trailer from Texas for this field trial. The basic design of the rotunda was developed entirely at the USDA lab in Texas. A welding instructor and students from Boerne High School designed, engineered, and constructed the trailer. As a result, the students won over $52,000 in scholarships and equipment for the school. Two of the students said that without these scholarships, they would not have been able to attend college. We discovered the rotunda was not as safe and reliable in our cold climate and we switched to remote immobilization darting techniques for the balance of the deer that were sterilized. We would like to thank the USDA for both their support and participation of this project.
February of 2012 - 2nd Phase: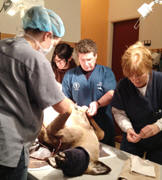 In February of 2012 using only remote immobilization darting this year, we were able to perform the rapid ovariectomy procedure on 17 more does. The first 14 were sterilized in just a few days and then 3 more were sterilized in an additional day that was added over a week later. This was accomplished with volunteer veterinarians, volunteer vet techs and other local volunteer assistants under the direct supervision of Dr. Anthony DeNicola and Dr. Steven Timm. An important component of this second phase was to continue the training and expansion of our volunteer staff to reduce the overall cost per doe. We are most excited about this level of volunteer support because their generosity resulted in a significant reduction of the cost per doe.
Since many of the previously sterilized does are observed daily, we were able to confirm both a significant reduction in fawns and a stabilization of the doe population.
February of 2013 - 3rd Phase:
In February of 2013 we completed the third phase of our non-lethal deer sterilization spaying birth control project. As in 2012, only remote immobilization darting was used and we were able to perform the rapid ovariectomy procedure on nine more does. The most interesting challenge this year stemmed from the success of the project. Now for every 10 does we observed, there was only 2 who could be darted because 8 were already sterilized. So it took a little more time and patience to find a doe who had not been sterilized already.
2014 UPDATE – 4th Phase
In February of 2014 we completed another phase of our non-lethal deer sterilization birth control project. Joining us for the first time was Stephanie Boyles Griffin, Senior Director of Wildlife Response, Innovations, and Services for The Humane Society of the United States and Karen Lange, Senior Writer for their HSUS Publications. Karen was reporting on our deer project for an upcoming article in their All Animals magazine on humane wildlife fertility control.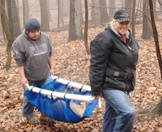 As in 2012 and 2013 only remote immobilization darting was used and we were able to perform the rapid ovariectomy procedure on nine more does with one additional doe who had been shot with an arrow. Her injury brought a different perspective to the project this year because many of the people involved had never seen first hand the damage that results from just being wounded by a bow hunter. There were tears and shock at the infection and suffering she must have been enduring. The veterinarian did his best to relieve her pain and save her.
Once again we were very satisfied with our ongoing success in continuing to confirm both a significant reduction in fawns and a stabilization of the doe population without a major influx of new deer. For every 10 does we observed, there was only 1 or 2 who could be darted because 8 or more were already sterilized. This research continues to confirm a lower deer population can be achieved by using humane management tools without killing deer.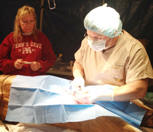 A Very Special Thank You to Keith Gold, DVM and Tamie Haskin, DVM of Chadwell Animal Hospital, Dr. Anthony DeNicola, and Steve Timm, DVM. Chadwell Animal Hospital's vet techs Melissa Goodman, Claudia Johnson, Rachel Lovell, Sharon Sieck and volunteers Jean Ayers, Debbie LaTorre, Matt Matthias, Meredith Callahan and GSU graduate student Charles Evans. We could not have done it without you!
The success of this project is directly related to the donation of these volunteer veterinarians, volunteer vet techs and other volunteers. This incredible level of volunteer support has resulted in a continued reduction of the cost per doe to less than 40% of the first year.
Our Philosophy: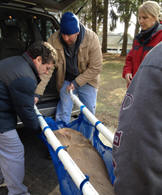 As the Board of Directors of Wildlife Rescue, Inc., we are charged with a great responsibility to honor the memory of our founder Gerda Deterer. A woman who devoted her life to alleviating the suffering of wildlife. Her dream was for people to co-exist humanely with the deer and all wildlife. We would like to thank the Maryland Department Of Natural Resources for permitting this research program and helping us to honor Gerda in a way she could only dream of.
In the past, farmers would drown kittens when they were born to keep down the cat population. We no longer use such barbaric ways to control birth rates, and now spaying cats is common practice. All we want is to move forward as a modern humane society in the same way when it comes to deer and all wildlife. Because, even if something is free of cost, it does not make it right or socially acceptable to use it.
President Kennedy once said… "Change is the law of life, and those who look only to the past or present are certain to miss the future". Wildlife Rescue, Inc believes in the near future, the citizens of Maryland in suburban residential neighborhoods where the use of weapons are both dangerous and socially unacceptable will be afforded the option to use non-lethal solutions.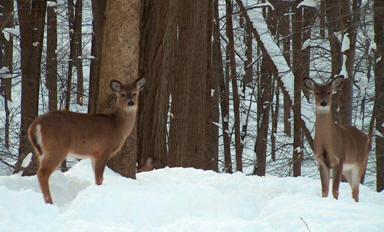 By conducting this program in a residential community, we are continuing our dedication of helping wildlife and finding humane solutions for their co-existence with Maryland citizens. While staying true to our mission to help injured and orphaned wildlife, we will also continue to research and educate the public about any new non-lethal solutions that will protect our wildlife.
This project occurred on private land and is 100% funded by Wildlife Rescue, Inc. as a public service to the community and the State of Maryland through donations. If you would like to make a donation to support Wildlife Rescue, Inc and/or the NON-LETHAL DEER RESEARCH PROGRAM FUND, please click the Donate button and email us that your donation is for the Non-Lethal Deer Fund.
You can call the Deer Project Line at 443-824-1718